How to Steady Your Chemical Supply Chain
Sea-Land Chemical Company |
You can't blame chemical suppliers for wondering "what's next?" The effects of the 2021 weather disruptions, together with pandemic-related shortages, means any new disruption creates more uncertainty for your chemical supply chain. That happened when Hurricane Ida hit in early September. Consider that Texas and Louisiana account for 80 percent of all primary petrochemicals produced in the country, according to the American Chemistry Council.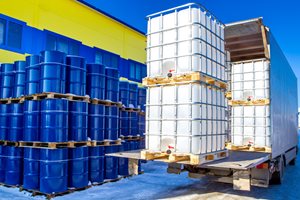 The potential impact was not lost on Eric Byer, president of the National Association of Chemical Distributors, when he told the New York Times: "The supply was already terrible. Now, it's going to be worse."
Fortunately, such dire predictions don't have to come true for forward-thinking buyers. By working with the right chemical supply chain partner, you can mitigate or avoid many of these chemical supply issues.  
Here, we take a look at five key attributes buyers should consider when selecting a specialty chemical distributor.
1. Ample and Regular Stock of Specialty Chemicals
Many chemical suppliers and high-volume chemical distributors are focused on their inventory turn rates to minimize their storage costs. This approach works when everything is proceeding as planned. But once a major disruption hits, these suppliers and distributors struggle to meet their customers' demands because their operations are too lean. Smartly run distributors should likely stock your key materials, so there's a buffer if their suppliers encounter shortages. At Sea-land, this includes niche specialty chemicals, while many larger distributors only carry standard commodities.
The caveat for stocking expected quantities is suppliers can produce the raw materials. Every industry is facing supply chain issues for which there is no historical precedent. Severe supply shortages notwithstanding, the experts at Sea-Land work with suppliers to maintain the right inventory levels for customers' needs.
2. Agile, Innovative Fulfillment Capabilities
Boutique specialty chemical distributors are typically more nimble than many larger sellers. High-volume distributors often rely on several different suppliers for the same chemistry and are loyal to the vendor who has the cheapest price at any given time. That means if you need a unique formulation for a one-off product, many large distributors can't fulfill your request or require long lead times to acquire the material. Specialty chemical distributors, on the other hand, work closely with their suppliers to help their customers find the right solutions. These boutique distributors typically have fewer layers of management, which means the sales team often has a direct line to the key decision makers at suppliers.
There are two levels of relationships working here, both on your behalf as a customer. The first is the relationship with your specialty chemical distributor. Working together to solve problems and provide support, your distributor will know you, your needs, challenges and successes. At the same time, the distributor will be working with its supplier on your behalf by forecasting and managing your inventory needs. The lowest price is not the driver here. It's the consultation, assistive problem solving and regular communication that you value most.
Another factor to consider is access to third-party logistics and warehousing services. 3PLs provide distributors with the flexibility to deliver products closest to the point of use. This happens by moving product from one 3PL location to another in anticipation of the customers' needs, and often without being asked. The regular forecasting and communication drives these efficiencies that customers enjoy without having to ask. This value-added service becomes essential with more manufacturers reshoring or nearshoring production to the U.S. and Mexico.
3. Technical Expertise for Maximum Flexibility
What if a product manufactured in one part of the world is temporarily unavailable because of a natural disaster or another unforeseen event? That happened recently with one of Sea-Land's customers, who ordered a product that's primarily manufactured in China.
Distributors should have technical knowledge and expertise related to your industry to offer alternative materials if yours is unavailable due to market restrictions. In this example, our technical experts quickly identified a supplier in Louisiana that produces a similar product that was a suitable substitute.
4. Frequent Inventory Forecasting to Avoid Stockouts
Personalized service is critical in this industry. Distributors should be working with you on a regular basis to understand your historical usage and your future needs. If they're not asking questions about your end uses and current technologies, they likely won't carry adequate volumes of select products. For example, Sea-Land's experts keep a close eye on industry trends, drivers and forecasts to ensure an ample inventory rather than relying on just-in-time (JIT) deliveries. Knowing the raw material markets is as important as knowing the issues that you face in your day-to-day operations.
5. Service Built on Relationships
Long-tenured staff have market and technical knowledge that you don't find with larger distributors, where turnover is much higher. By comparison, Sea-Land sales and technical team members have 22.25 years of industry experience on average.
Distributors can have unique compensation arrangements with employees, such as employee stock ownership plans (ESOPs). This provides employees with a vested interest in growing the company, and in turn ensuring employee satisfaction. At Sea-Land, our long-tenured employees have developed years-long relationships with suppliers who work on delivering hard-to-find specialty chemicals when supply is tight. Experienced specialty chemical distributors build long-lasting partnerships with their suppliers, so they can offer more robust and reliable service. At Sea-Land, suppliers are invited to meet our customers and work side by side, conducting in-person lab testing to see first hand if a chemical is right for the job.
Gain Peace of Mind Today
With so much uncertainty in today's market, continuity and industry-specific technical knowledge within an organization bring much-needed peace of mind to partners and customers. As previously noted, working with a distributor provides you with a wide range of products, stocked material, lower shipping costs and logistical expertise.
For more information on taking the next step and switching to Sea-Land, download our guide or reach out to start the conversation.