Join Us at STLE 2017
Sea-Land Chemical Company |
The STLE Annual Meeting & Exhibition is the lubricant industry's top destination for professional development, networking opportunities, information on best practices, and education on the newest technologies. Once again, Sea-Land Chemical will be there as a sponsor, exhibitor, and contributor. Be sure to visit us in Atlanta from May 21-25, 2017 at booth 406/408!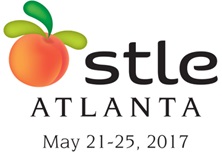 We're not only proud to be a sponsor and partner of this year's conference, but also to have two Sea-Land employees be part of important industry discussions. Catch our President, Joe Clayton, as he will be part of the popular Commercial Marketing Forum "Taking Stress Out of Your Decision-Making" on May 22 at 9 am. Additionally, Technical Resources Team Leader, Ted McClure will present his topic "Boundary Lubricant Additive Response Comparisons on Various Metals Using Twist Compression Tests (TCT)" on May 22 at 2 pm. Ted will also be visiting the Sea-Land booth to hold an exclusive Q&A on SLC Testing and Twist Compression Tests on May 23 at 3 pm.
We're thrilled to be part of STLE 2017 and want to share our excitement with you by giving away an Amazon Echo. If you are attending the meeting, visit us at our booth to enter for your chance to win. You can also schedule a meeting if you'd like to discuss your next formula or any of your specialty chemical supply needs.
We hope to see you there!